Death Metal Rooster!
Something not LS related at all! 01/21/10


Our Third Relic Is — Aegis!
06/15/09 – Before becoming a HB Sponsor, Mitsume finished the coins necessary, leaving only the paper and fragment left to obtain. Once Goublefaupe dropped the correct attestation last week, it was all traded in and now Mitsume has a new toy. Please join me in congratulating Mits on the achievement.
Pic by Twinkill.
My 187,200,000 G Sword!
After two years, Excalibur is finally complete.
01/23/09 – HB completes their second Relic. Thanks to the LS for all their hard work, patience and support. Next up to finish is Leteuce and Carldiedrich.
Pic by Twinkill.
HB Celebrates Three Years of Events By Not Doing Events!
We at HB are relaxing on our <insert religious holiday> vacation, but not to fear, we will be back soon to kill Mega Bosses, Gods, Jailers, Proto-Ultima/Omegas, and ourselves.

12/29/08 – Wow, where has all the time gone since I last updated this. Let me challenge myself by summarizing months of events in a few sentences. Starting now!
We have killed many mobs and ourselves getting lots of drops that enabled members to go 5/5, 6/6 for AFv2, Sky drops, Sea drops, and enough Nashira and Homan that our manniquins are starting to look pimp, but not as pimp as Leteuce will look once his relic hammer is finished—since his fragment dropped, and mine will be completed soon.
HB started up Sea (see pic above and notice how Bez is the only one doing any work—nice, where do I sign up!?) and recruitment is still open for this and all other events. Sea is:
Tuesday: gather 11 PM GMT/6 PM EST
Saturday: gather 11 PM GMT/6 PM EST
Gather at the Grand Palace of Hu'Xzoi.
Einherjar went through a rebuilding period with the change in leadership, and is beating Tier III runs. It is Sunday and Wednesday evenings. Bring a date because you'll either score or get screwed in this event—either way, ampoles are plenty.
Pic by Twinkill.
Super Sunday — HB Wins Triathlon Event!
From Sky, Einherjar and Dynamis, HB wins GOLD!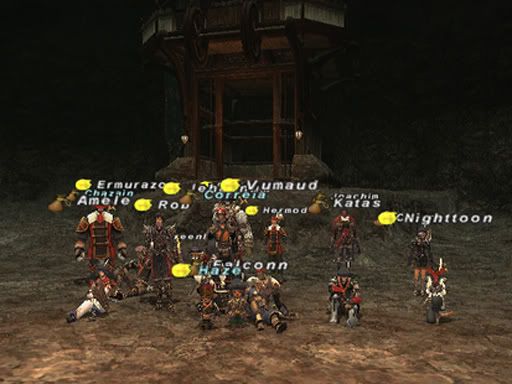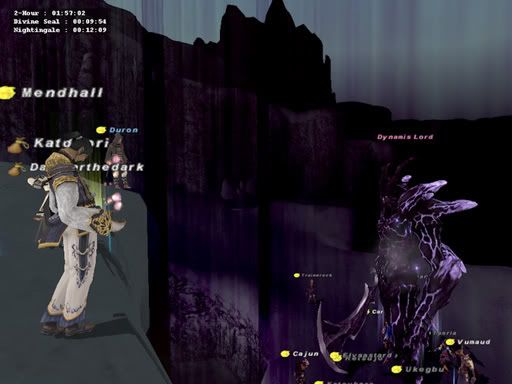 08/24/08 – HB kills some Kirins. Goes 3/3 on Kitty pants. That right there would be a good day. We continue on to win another Tier II in Einherjar which now puts us on the cusp of Tier III. You'd think by Dynamis we'd be tired. We drop DL, pick up some never before seen AF (WAR X2) by us and call it a night. Grats on the wins, the titles and the loot.
Pic by Retsujo/Twinkill.
HellsBells Serves Up Fresh Hakenmann at Market Prices!
Our Einherjar conquest continues…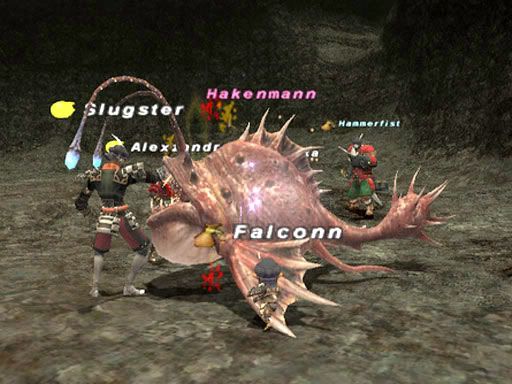 07/28/08 – A fish that is just chilling out on land scares me. There is not even a body of water nearby. We hacked away at him till it was dead and are now one step closer to advancement. Now perplexed to what we should do about this huge fish carcass, we decided to rig it with dynamite, vaporize it and let the scavengers clean it up. See the 1970 video of a similar circumstance below for the outcome.
Pic by Twinkill.
Einherjar — Mission Accomplished!
1/9 more to go!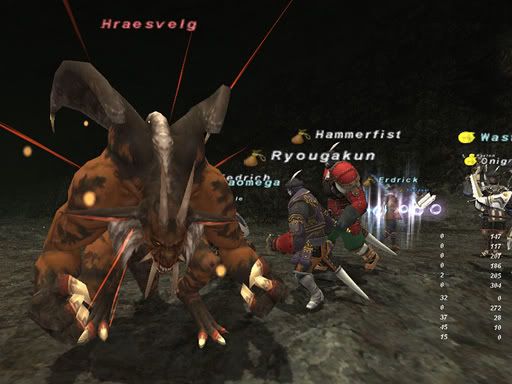 07/20/08 – After a slow start and a rebuilding process, HB finally turns some results with Einherjar. Having some of the worst luck with mob selection, it was only a matter of time before we got something we could work with. Congratulations out to all that were present. Enjoy the new temporary key item and let's continue the progress with this event.
Pic by Twinkill.
Dear Quiebitiel,
A friendly message from those of us at HellsBells


07/06/08 – We will stop beating on you — if you just give us what we want. We know that you'd rather play Kickball with your hydra buddies. We rather play it too. Save yourself a lot of wasted time and help us out. If you do, we will span really far out and I'll make sure you are not picked last — DEAL?
Pic by Twinkill.
SE Announces, Changes to Dynamis! NEW Zone Added!
Welcome to Dynamis – Deadhorse, get ready to beat this one over and over!.


05/22/08 – I've received news that certain elements will be looked into with Dynamis. There are three main changes; currency being able to auto-stack, a reduction in the glass prices, and an increase in the drop ratio for Icelands. All of them much needed, all of them should have happened 2-3 years ago. I guess it's better than never.
To phase up happenings in HB, we've killed Kirin a couple of times, beat and lost some zones, got more THF gloves, 5/5 quite a few sets and we are close to reaching our 1,000 Relic drop. To honor that occassion, I'll make some sort of prize to give players if they guess it correctly.
HB Cries ACTION!


04/15/08 – A Little seen video produced by Teneshi
Dynamis Lord Puts Out!
Gives Rob His Ring and Drops a Dowry
After DL nearly raped us all, he finds love for the strong silent type.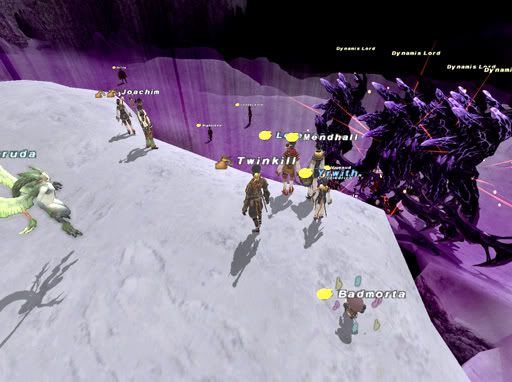 03/12/08 – HB goes back to Xarcabard and drops DL again. The irony is that HB has gotten twice as many Shadow items than Warrior's Lorica. It's hard to believe that we've never seen one WAR drop in Xarcabard.

Wednesday quite an achievement occurred that requires some acknowledgement. I would like to congratulate my favorite player, Paxton for beating Leteuce in a lot battle winning the 100. Good job me, keep up the great work!

HB Is Cutting Edge... We Do Sky Now!
Have you gotten your 3rd pair of Melee Gaiters auto-dropped to you? Has your Lvl. 5 THF a pair of Assassin armlets? Would you like to 20 minute AFK with a different view? This might be the place for you!


03/02/08 – HB visits sky for the first time; beats on Genbu, MG and some other things then calls it a night. Congrats to Miryoku for the Zenith crown, the first drop of the event. "Zenith gear does not impress me too much, although many mages would disagree with me. However, I will look into that further still." - Miryoku. Let us know if the crown changes your mind, princess.

We Finally Beat A Hat Out Of Marquis Orias.
And HB members can actually see it in the LS!


01/06/08 – And Havon said it would not happen. After a painfully long lapse between Sorcerer's petasos drops, a miracle happens... Thanks to everyone!
A Definition: A petasos is a style of hat, usually made of wool felt, leather or straw, with a broad, floppy brim. It was worn primarily by farmers and travellers in classical times, and was considered characteristic of rural people. The name is the Greek and Latin word for any hat. The pilos is the brimless version of the petasos.
A similar hat was worn by hippies.
Representations of the Classical god Mercury (mythology) are frequently identified by a petasos, which he often wears. His petasos usually has little wings attached.

It Wasn't Just Luck!?
HB again saves Vana'diel from the evil graps of Dynamis Lord. Only to have to do it again next week.


12/12/07 – Finally DL drops some Shadow items and we realize that we after the 3rd THF drop, people are no longer excited. Seven drops later, it's a joke that we laugh about.

HB Brings Proto-Omega To His Knees
But then he got back up again on two legs, then four and back on two.


10/20/07 – We revisit Omega and bring home the bacon/eye & foreleg. I can understand the eye part, since it only has one eye, but it has four legs. Someone needs to do a better job of carving this thing up.

HB Takes The Beach By Storm
With Buburimu, Qufim, and Valkrum behind us, there is only one more zone left to beat, Dynamis-Tavnazia.


10/15/07 – HB's winning streak has been off the charts. 1 of 2 on Dynamis-Valkrum, we go in and get the job done. In fact, I don't think anyone even died on the Mega Boss fight.
After the win, we got drunk, held a wet t-shirt contest, screamed "Dunes Baby Woooo!" and ate funnel cakes till we vomited. Then spent the remaining time doing community service by cleaning up the vermin off the beach which included; Cactuar, Sheep, Hippogryph, Manticores and Cole.

Persistence Pays Off
Antaeus Drops, the nubs of Qufim Rejoice!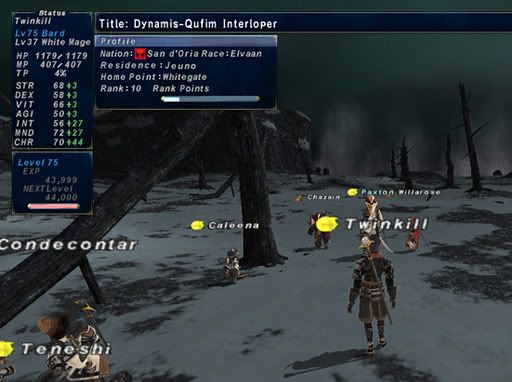 10/04/07 – HB returns to Qufim after a brief hiatus from new zones and picks up the win. What only seemed like a circus of a run; desperately looking for the subjob unlock and chasing after Suttung, we clown Antaeus with a pie in the face, and celebrate.

HellsBells Defeats Ultima!
And on the Hades NASDAC, stock in Reraise Pins/Gorgets climbs to record highs.

A rare picture of Jehannum/Cole alive!
For the first time taking on Ultima, HB wins supreme and takes home some decent drops. To attest for the level of concentration, not one picture was taken. So much for our pets having Citadel Buster.
Thanks Sasarai for leading the charge, and to all the people that make these events so much fun.
HellsBells Does Limbus
HMN without the HNM.. and the camping, and money drops.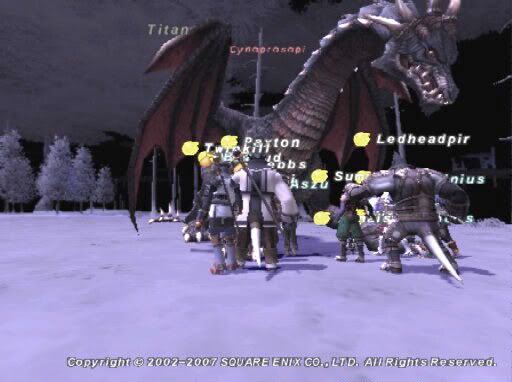 HB goes into Limbus and pisses off a dragon by stepping on its feet. Helplessly pinned to the ground, we defeat the dragon by humiliating it with our jeers.
HellsBells is now Dynamis-Xarcabard Interlopers
We didn't repearl, it's our new title.

Oddly enough, it took more time to gather for this picture than it did to kill him. Go figure! Who would think looking this good would take so much time.
HellsBells Takes on Amaltheia... the GOAT!?
The divine goat who suckled Zeus on Crete, his island of birth, when he was still an infant. In other traditions, Amaltheia was a nymph who nourished Zeus with honey and the milk of a goat. Out of gratitude Zeus turned one of the goat's horns into the Cornucopia ("horn of plenty") which was always filled with whatever its possessor wished. In some traditions, the goat's skin became the Aegis, the legendary shield of Athena.
Grinded him out and got the drop for Itaevin who is one step closer in his path to his Aegis. Thanks to all those that participated and helped the Galka out.
The Coleplante Casket award goes to Cyranule for his constant RR/kite/die/RR. Even when we asked him to sit out while weakness wore he refused. Taking it for the team!
HellsBells Promotes Individualism
(Dynamis - San D'Oria) After what can only be called a marathon event, HB adds further insult to the Orcs by taking their pants and boots. LET THIS BE A LESSON!
HB was not without their share of injuries... thumb blisters.
HellsBells Shows What They Do Best... They Loiter.
HB makes friends with our favorite Goblin Statue. After a series of friendly pics were taken, and the cameras were put away, we killed him, looted the city for 10 AF and called it a night.